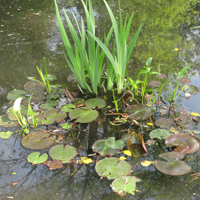 Qigong 4 - Iron and Silk: Strengthening the Body, Cleansing the Internal Organs
with Acharya Suzann Duquette
Requirement: Qigong 3
Iron has the quality of hardness, but tempered by fire, will become soft and flexible, ready to form limitless shapes. Silk has the quality of softness, but when the fibers are woven together, they form the strongest bonds.
Qigong 4 is the balance and integration of Iron and Silk. Enter the world of Wudangshan qigong to build the Iron of external strength. Continue your exploration of breath regulation to weave the Silk of internal strength.
Your introduction to Iron begins with the Tiger and Dragon forms of the Wudangshan Five Animals. Wudang means martial-art dominant, and its qigong is used to build the strength and flexibility required for martial arts training. The Tiger builds bone strength and the Dragon trains flexibility in the spine. When you practice these forms, the Iron of your muscles, tendons, and bones will become strong yet soft and pliable.
Your experience of Silk is through the qigong of Immortals' Guide and Red Phoenix, when you use breath to move qi through the muscles, tendons, and bones. Through breath regulation, the Silk of your muscular-skeletal system will become soft yet strong and firm.
The highlight of Qigong 4 is a special evening of practice devoted to Organ Cleansing. Toxins enter our organs daily, introducing impurities into qi that is stored in them. Learn how to strengthen your organs, cleanse them, and make them suitable vessels for holding qi.
This level ends with the final two postures of Standing Qigong, the culmination of stabilizing the benefits of your Iron and Silk training
Prerequisite: Qigong level 3.
Pricing: For those who can afford the patron price, thank you for considering paying at that level.
Questions? Please contact Trinley.
About the teacher: Suzann Duquette is a long-time student of body-focused disciplines, beginning with training in T'ai Chi Ch'uan and Mudra Space Awareness in 1974. She is an authorized instructor in the Daoist Qigong lineages of Dr. Eva Wong, with whom she has been studying since 2007. She is also an instructor of Mudra Space Awareness, as introduced by Chögyam Trungpa Rinpoche, and Lujong (body training), in the tradition of Khenpo Tsültrim Gyamtso Rinpoche.
Suzann is current resident teacher of Karmê Chöling Shambhala Meditation Center in Barnet, Vermont, and core faculty for the center's Mukpo Institute. She also teaches advanced meditation programs and Daoist Qigong Levels 1 - 5 throughout the United States and Canada. She lives with her husband in Barnet, where they own and run Blue Skies Guesthouse, a local B&B.