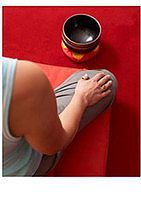 SunDay Open Meditation
Guided Open Meditation on Sundays, 10:30-11:15 a.m. online.
Please note: Shambhala Pittsburgh will be closed for some period as we collectively care for each other by practicing social distancing.
We are now working on making some or all of our ongoing programs accessible online, including our Guided Open Meditation on Sundays. We look forward to gathering together virtually while the center is closed.
Zoom online meeting etiquette for all participants: We ask that folks not click on the link below until 5 minutes before the scheduled start time of each session. This allows others to use the account at other times. Please "mute" your microphone when you are not directly speaking– this cuts down on background noise and interference. To do this click on the microphone button in the bottom left-hand corner of the zoom interface. (A red line through it means you are muted.) Don't forget to unmute yourself when it is your turn to speak!
All are welcome! Donations are gratefully accepted but not required.
Guided Open Meditation - Every Sunday, 10:30-11:15 am
(Zoom Meeting ID: 969-365-218)
Please note that occasionally, because of holidays or conflicts with another programs, there may be a change in the regular schedule — so it's always good to check the calendar before you attend.
Questions? Contact Caleb for more information.