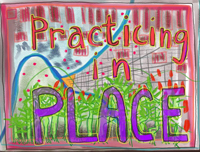 Practicing in Place - An 8-week community-led online course
Practicing In Place - An 8-week Community-led Online Course Offered by the Pittsburgh Shambhala Meditation Center
Pricing: We are offering this course on a sliding scale. It is suggested that you offer between $10-100, but you are welcome to pay more or less than the suggestion. We will split whatever comes in 50/50 between our center's operating costs and to Black-led organization 1Nation Mentoring.
Class Time: Tuesdays 7:00- 8:45 EST via Zoom, July 7-Aug 25th
Introduction: An eight-week contemplative inquiry into place: the elements, land, history, people, society, and systems in which we live. The past of our place is still alive in the present. This collective online course invites multiple ways of knowing our place as a spiritual practice. Each week a different presenter from our community will lead us in an experience of the theme. We will explore, heal, interweave, and open our relationship with our ecosystems, towns, cities, landscapes, and communities. This will help us understand the beauty, tensions, injustice, and possibilities of our moment. There will be active, on-site "placework" assignments between each week. This course will focus on the Pittsburgh region as our primary example, but people from all over are welcome to participate and bring their specific experience of place.
What's going to happen? Each week will include meditation, contemplative exercises, a presentation on an aspect of place, facilitated conversation, and an introduction to the experiential exercise/placework for the week.
What is expected from participants? To engage the experiential placework for the week and come to the course prepared to inquire, and to participate in a collective learning community.
Hosted by: the Interim Practice Team: KT Tierney, Marit Wilson, Stephanie Romero, Jessica Heathcote, Adam Lobel
Presenters and Themes (more TBA as they are confirmed):
Adam Lobel: An Introduction to Inquiring into Place as Spiritual Practice
KT Tierney: A Critical Phenomenology of Water and the Three Rivers,
Fitzhugh Shaw: Food is a Weapon
Stephanie Romero, ICE and Deportations in Pittsburgh
Patience Insight: Policing and Protest in Pittsburgh
Aging as Spiritual Practice Group: Aging in Pittsburgh

Attendance: This is a course! Please attend as many as you can. Your contribution is important.
Recording: We encourage full participation, but if you miss a class they will be recorded. If you do not want to be recorded, you are welcome to attend with your video turned off.
Questions? Please contact Jessica.